---
Folk Dance Federation of California, South, Inc.


Hungarian Performance Group

By Dick Oakes
---
THIS IS HISTORICAL INFORMATION ONLY
CLICK AN IMAGE TO ENLARGE
---
| Members | Photos | Repertoire | Stories | Miscellaneous |
---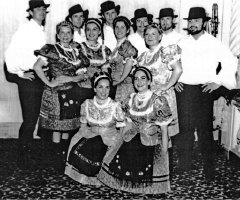 Betyárok had its beginnings in 1966 with four men (Don Green, Anthony Ivancich, Dick Oakes, John Tiffany), and thusly Betyár, meaning a type of cocky, arrogant young fellow, was taken as a title of their male group. Of the four men, only Anthony had Hungarian blood in his veins. John Tiffany was married to a Hungarian wife (Susan). The other two simply loved to dance, and especially were challenged by the masculine but elegant Hungarian movements.
During the year, a fifth dancer, Cam Williams, entered the male group. The first dance they practiced was a challenging male solo-type dance, called Sarkantyús; the second was Kun Verbunk. They were taught by Andor Czompo, a performer and teacher of Hungarian dances, who had left Hungary in 1956, during the uprising of Hungarians against the Soviet regime. By 1961, Andor was "discovered" by the folk dance world and being a competent teacher began to be invited across the United States to teach dances.
| | | |
| --- | --- | --- |
| | | |
Elsie Dunin was invited to be the "artistic director" (alias: "master whip cracker") of the group after her return from Romani (Gypsy) dance research fieldwork in the Balkans in 1967. Elsie's first contact with Andor and his dances was in 1963 at the summer week-long Santa Barbara Folk Dance Conference, sponsored by the California Folk Dance Federation, South. His recordings, dances, and manner of teaching were captivating, so that Andor was repeatedly invited to southern California to teach workshops. After Betyárok was founded, he was invited to teach and consult, mainly arranged through Susan Tiffany. It was also Susan who encouraged the idea of selected women to dance with the five men. Elsie Dunin, Lisa Geller, Linda Ortiz, Mikki Revenaugh, Susan Tiffany, and Lynn Williams (all experienced and skilled dancers) became the first generation of women.
| | | |
| --- | --- | --- |
| | | |
Elsie began to work with the group in 1968, the colorful "verbunk" and "csárdás," for example, were arranged for the stage by her. She performed with Betyárok for the first time in August at the 1968 Santa Barbara Folk Dance Festival. The raw dancing material was all taught by Andor Czompo; Elsie's role was to arrange and stage the dances for performance. Susan was responsible for the costuming and getting consultation from Hungarians for the outfits. Margit Balogh was one of these women. Some of the other women were very good at learning the pronunciation for the dance songs, and prided themselves at both the singing and dancing: especially Margaret Blankley and Sandi Wodicka. The group grew selectively, but by 1975 there were more men than women. On March 9th, an audition was held for women.
During the school year, the group rehearsed Sunday mornings almost weekly at the University of California, Los Angeles (UCLA), in the Dance Building. Many members drove long distances, such as Donna Tripp from Anaheim, Al Ogden from Anaheim, Mikki Revenaugh from Anaheim, the Tiffanys from Camarillo, Florence Martin from Costa Mesa, Jimmy Martin from Newport Beach, Anthony Ivancich from Van Nuys, Kirk Leonhardt from Van Nuys, and others from different parts of Los Angeles. The other interesting tidbit is that most every one of these dancers was a leader in his or her own right. They were fine dancers and performers, and Elsie's staging was respected. The group performed in such venues as the Wilshire-Ebell Theater, the United European-American Club, the Phoenix Club, Busch Gardens, the American Guild of Organists, three Choreographers' Concerts at California State University at Fullerton, the Westwood Coop festivals, and the Statewide Festival in Santa Maria, California.
Elsie's research into immigrant South Slavic events in California was taking more and more of her time. During the summer of 1975 she did a preliminary overview of the emigrant areas in Croatia and Montenegro to see where she would focus her study further. So, in the fall of 1975, she announced to the group that she would be taking a sabbatical from UCLA to be in Yugoslavia for the academic year 1976 to 1977. The group continued during her absence. Upon her return, she resumed rehearsal and performance activity.
Elsie resigned from the group in 1979, due to a change in priorities, to spend more time with research and writing. Weekly rehearsals and responsibilities of staging were costly in time and energy, and Elsie felt she could be more productive with South Slavic research, where she already knew the languages.
Betyárok continued for a while longer, under the direction of John Tiffany. Twenty years later Betyárok had a reunion at Anthony's house in Hollywood, on September 19, 1999. Some thirty folks (80 percent of those contacted) came to feast on a roast lamb, to reminisce, and to dance.
---